 
Husqvarna TC 138 Garden Tractor
The TC 138 is a user-friendly tractor ideal for homeowners having small to mid-size gardens. The tractor offers excellent collection of grass clippings as well as leaves, giving tidy cutting results. The spacious, integrated collector is easily emptied from the driver's seat.
Equipped with a powerful Husqvarna Series engine with choke less start and pedal-operated hydrostatic transmission. BioClip® plug and deflector for rear ejection is available as an accessory.
In business over 200 years

DPD & Royal Mail Delivery

Pay & Collect in Branch or PayPal Online

7 Branches across the South

Machinery installation services
Features
Pedal-operated hydrostatic transmission - Easy speed and direction control with pedal-operated hydrostatic transmission. Separate pedals for forward and reverse
Adjustable sliding seat - Unique seat platform automatically changes height as seat is moved forward or rearward to optimize operator position
Air Induction - Our innovative Air Induction mowing system draws clean air from the top and bottom of the deck, enhancing air flow which results in greater grass lift and superior cut
Chokeless start - Easy to get operating with automatic choke. Just turn the key and go
Robust steel chassis - Built on a robust steel chassis, ensuring maximum durability and sturdiness
Step-through - Ensures comfortable and easy mounting and dismounting
Battery indicator with charger connection - Gives clear indication on battery status, which makes it easy to see when charging is needed. The charger connection is placed next to the indicator, for extra convenient recharging of the battery
Deck Wash Port - Connect your water hose to the port to clean the underside of your deck
Anti-scalp wheels - The cutting deck is equipped with anti-scalp wheels, which reduce the risk of scalping when cutting uneven lawns
Collector - The large, effective collector is perfect for collecting leaves as well as grass. Easily emptied from the driver's seat
Lever-mounted cutting height adjustment - Easy accessible cutting height adjustment for improved ergonomics. The spring-assisted cutting deck makes adjustment easier
Full collector indicator - A signal indicates when it is time to empty the collector
Cup holder - Convenient cup holder
Dual drag links - Give tighter turning radius and improved maneuverability
First-class cutting deck - For maximum performance and efficiency
Powder-coated Deck - Powder-coated decks for exceptional durability and four anti-scalp rollers as well as a nose roller to help prevent scalping grass for a professional cut, every time
Full collector indicator - A signal indicates when it is time to empty the collector
Headlights - Makes the tractor more visible and allows you to work when it's dark
Husqvarna Series Engine - Developed for Husqvarna by Briggs and Stratton this engine features high specified oil filter, pressure lubrication, anti vibration system and automatic choke
Pivoting front axle - Ensures good balance and excellent driving comfort
Reverse Operating System (ROS) - For improved safety. The ROS disengages the cutting blades when driving in reverse
Safety switch under seat - The tractor is equipped with a safety switch under the seat. If the driver leaves the seat the engine and cutting deck are automatically switched off
Water hose connection - Facilitates cleaning of the cutting deck. Just attach the hose, turn on the water and start the engine
Year-round use - A wide range of accessories makes our tractors versatile and useful all year round. They can be fitted with trailers, snow blades, brushes and more
BioClip® plug accessory - Makes it possible to convert your tractor to BioClip®, which means that the grass is cut into small pieces that quickly decompose and return to the lawn as fertilizer, also making the lawn more drought resistant
| | |
| --- | --- |
| Cutting Deck | |
| Nose roller | No |
| Anti-scalp wheels | 2 |
| | |
| --- | --- |
| Engine | |
| Motor/engine manufacturer | Briggs & Stratton |
| Engine name | Husqvarna Series |
| Cylinders | 1 |
| Generator | 5&3 A |
| Battery | 12 V |
| Battery | 28 Ah |
| Power/fuel type | Gasoline |
| Fuel tank volume (with reserve) | 5.7 l |
| Oil filter | Yes |
| Net power at preset rpm Energy | 8.6 kW |
| Net power at preset rpm | 2600 rpm |
| | |
| --- | --- |
| Sound and Noise | |
| Sound power level, guaranteed (LWA) | 100 db(A) |
| Sound power level, measured | 98.9 db(A) |
| Sound pressure level at operators ear | 85 db(A) |
| | |
| --- | --- |
| Vibration | |
| Vibration level seat | 0.13 m/s² |
| Vibration level steering wheel | 3.87 m/s² |
| | |
| --- | --- |
| Drive System | |
| Drive method | Pedal-operated |
| | |
| --- | --- |
| Equipment | |
| Seat material | Vinyl |
| Front-End Protection | Available as accessory |
| Seat back height | Low 11" |
| Steering wheel type | Standard |
| Collector | Included |
| Deflector | Available as accessory |
| Collector volume | 220 l |
| | |
| --- | --- |
| Transmission | |
| Transmission type | Hydrostatic |
| Transmission manufacturer | Tuff Torq |
Why Buy From Haynes
About Us
Established in 1790 in London, Haynes Bros Ltd is now the holding company for a group of subsidiary companies operating throughout the South East.
Moving to Kent in 1832, the Company was the first in the county to take on the Ford Motor Company franchise in 1911 and then sell and distribute the complete range of Ford cars, trucks and agricultural machinery.
Today it is the only privately owned company in the UK that still distributes these range of products, albeit now with different manufacturers given Ford Motor Company's departure from the truck and agricultural sectors. As part of this move, the Company has developed a relationship with Fiat Group and also now distributes their products via their subsidiaries, Iveco, New Holland and Case IH. It also has the JCB agricultural franchise as well as other leading makes of farm machinery.
The Company operates four subsidiary companies from seven locations in the South East.
Along with all these great brands we supply a large Range of Parts and accessories along with a Great range of Garden and professional machines from Husqvarna. 
We have outlets at
Wrotham TN15 8LW Tel: 01732 880 880 Select Opt One for Parts
Great Chart TN26 1JJ Tel: 01233 822205 Select Opt One for Parts
Birchington (St Nicholas at Wade) CT7 0PT Tel 01843 847207 Select Opt One for Parts
Uckfield TN22 5RB Tel: 01825841100 Select Opt One for Parts
Click here to see our branches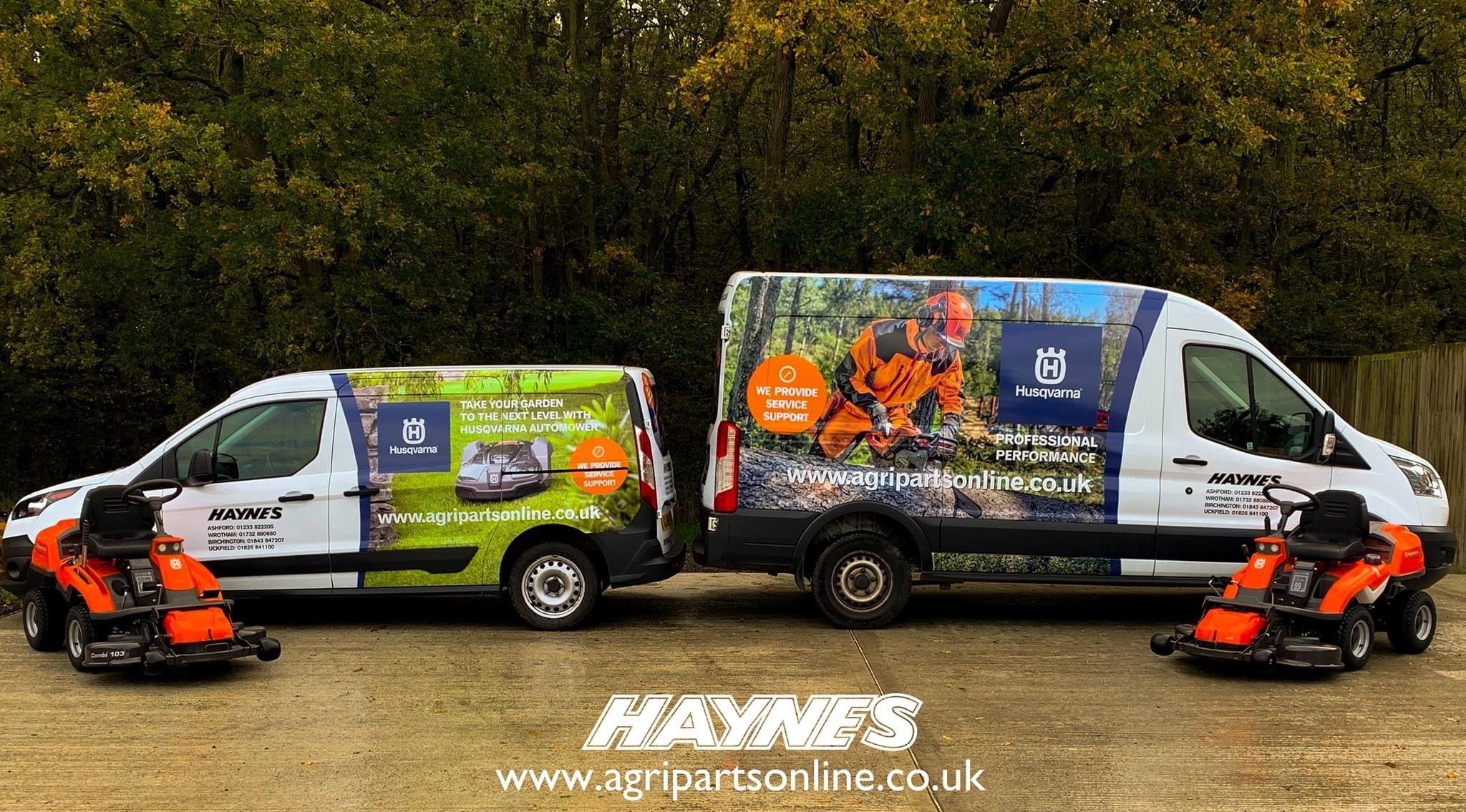 Machine Handover Policy
Machines sold by us are "installed machines" we are not an "in the box retailer".
When you collect or by prior arrangement have your machine delivered/Installed a member of our team go through the installation process with you, which will help you make the best use of your machine in a safe manner this will go through the following:
- The importance of reading and following the Manufacturers operator's manual
- The controls and adjustments of the machine to ensure safe and efficient operation of the machine.
- We will also advise you of the importance of wearing the appropriate Personnel protection equipment.
- Also, you will be advised of the importance of servicing and maintenance  for both a Safe and efficient use of your purchase.
- The terms and conditions of the Manufacturer's Warranty Agreement.
- You will be asked to sign the Installation document.
Where delivery of your machine has been agreed you will need to ensure that someone is available to receive the machine and go through the above process.
Delivery and installation is only available it the following Post Code Districts CT, ME, TN, BN & RH
Please Note failure to follow the Terms and conditions of the manufacturers Warranty Agreement may render it invalid