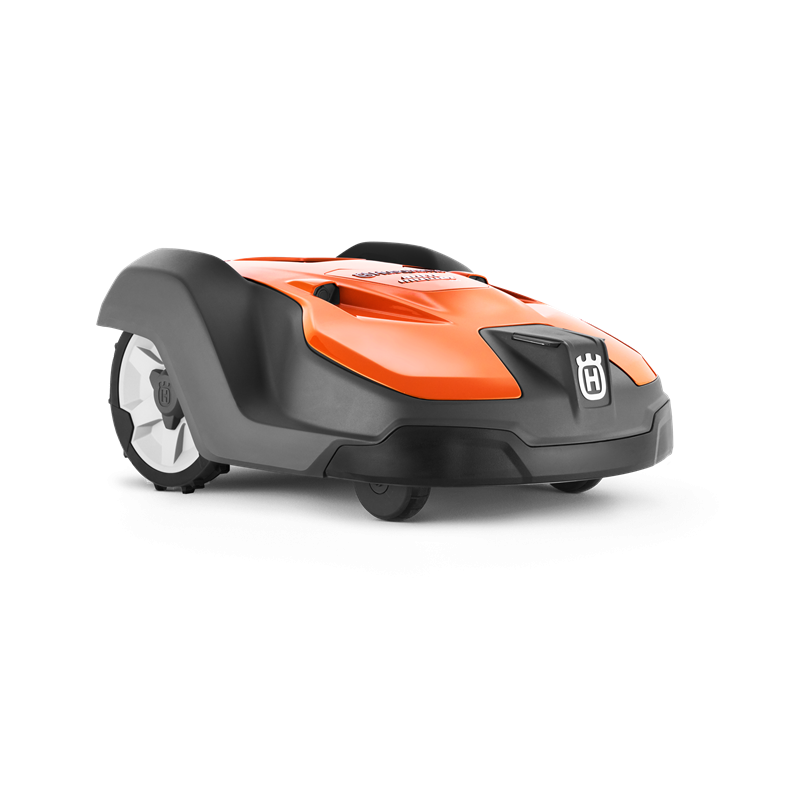  
Husqvarna Automower® 550
Robotic mower designed for professional fleet use. Offering remote control, including theft tracking through Husqvarna Fleet Services via PC/tablet, as well as full mower control and configuration via smartphone. GPS assisted navigation and weather timer ensures uniform coverage of complex lawns, while automatically adapting mowing frequency to lawn growth.
Handles all types of lawns and manages steep slopes up to 45% (24°) with perfect cutting results – even in rainy conditions. Remote Object Detection enables higher mowing speed and area capacity. Robust thorough construction provides durability and reliability.
In business over 200 years

DPD & Royal Mail Delivery

Pay & Collect in Branch or PayPal Online

7 Branches across the South

Machinery installation services
Features
Husqvarna Fleet Services™ - Husqvarna Fleet Services™ gives you the possibility to monitor and control multiple numbers of mowers from your smartphone, tablet or laptop. You can overview your mower's status or exact location, command them to start, stop or park them all before the storm arrives. Easy to adjust settings and cutting heights. Receive alarms and track the mower's position in case of theft – from everywhere. 10 years mobile data contract included. Standard on 500-series, optional on X-line models. Husqvarna Fleet Services™ also work together with all other HFS sensor equipped products
Commercial user interface - Model equipped with status LED indication and robust and easy to manage switch for START / STOP functionality. Simplifies use for inexperienced users and minimizes serious impact on the mower in case of vandalism. Full surveillance from smart phone, tablet or laptop
Remote object detection - Built-in sensors using ultrasonic technology helps the mower to detect objects, lowers the speed and avoid hard collisions
GPS-assisted navigation - An on board GPS system creates a map of the garden, including where the boundary and guide wires are installed. Husqvarna Automower® will then register which parts of the garden it has covered and adjusts its mowing pattern accordingly. This will ensure optimized lawn coverage and an excellent cutting result
Triple guide wires - Triple guide wires reduces searching time even if the installation area is really large, complex or divided into several areas
PARK button on charging station - Just a push on the PARK button to call back the mower to the charging station, in areas like public football pitches, golf courses etc
Automower® Connect - Automower® Connect gives you full control of the mower right in your smartphone. You can easily send start, stop and park commands, check and adjust settings. If required also receive alarms and track your mower's position in case of theft – wherever you are.10 years mobile data contract included. Standard on X-line, optional for all 300-400 series
Weather timer - Adjusts the working time to the lawn's growth rate, meaning that Husqvarna Automower® will maximize its mowing time during periods of strong grass growth. In sunny or dry weather, or late in the season, the mower will spend less time mowing, which decreases wear on lawn and mower
Automatic passage handling - Husqvarna Automower® automatically senses narrow passages and finds its way even through the smallest passages. It will vary its route through the passage to avoid unpleasant tracks
Manages slopes up to 45% - Large coarse-tread wheels provide excellent traction even if the surface is slippery. The mower handles slopes up to 45%
Flexible charging station placement - Enables flexible placement of the charging station in the garden which simplifies the installation and secures reliable docking every time
Balance control - For silent and trouble-free operation it automatically detects imbalance in the cutting system. Imbalance could be caused by missing, double mounted or damaged blades
Front bumper - Rubber-made front bumper makes the mower more restistant to recurrent collisions with trees, shrubs and other objects within the installation
Theft protection by GPS - Products equipped with Automower Connect®/Husqvarna Fleet Services™ immediately begin tracking its GPS position and send notifications to your devices. Makes the Automower® installation extra safe and minimizes the risk of theft
Silent - Thanks to its unique cutting system, Automower® works extremely discreet and quiet and just when you want
Unique cutting system - Husqvarna Automower® cuts just a little but frequently, which assures a nice and healthy lawn. It is equipped with sharp razor-like blades made of strong carbon steel mounted on a robust cutting disc system. This provides for efficient operation and extremely low energy consumption
No emissions - Automower® is electrically powered and produces no harmful emissions
Theft protection by alarm/PIN code - Different level theft protection for high security. If the mower carried away a high-sounding alarm starts and can only be deactivated with the mower's unique PIN code
Automatic charging - When Automower® needs more power, it finds its own way back to the charging station
Low energy consumption - Efficient energy management means low energy consumption, allowing Automower® to operate at a fraction of the cost of conventional lawnmowers
Scheduling - You decide if you want Automower® to mow the lawn around the clock and 7 days a week
Lift & Tilt sensors - If Automower® is lifted off the ground or tips over, the cutting automatically shuts off. In addition, the blades are rotating far from the outer edge of the machine. If Automower® meets an obstacle it will stop and redirect itself without causing any damage
Weather proof - Automower® can be outside around the clock and is designed to function properly and unattended regardless of the weather conditions. Automower® is built to withstand the harsh Nordic climate without any problems
| | |
| --- | --- |
| Battery | |
| Battery type | Li-Ion |
| Typical charging time | 60 min |
| Typical mow time on one charge | 270 min |
| Mean energy consumption at maximum use | 23 kWh |
| Mean energy consumption at maximum use | 5000 m² |
| Power consumption during cutting | 35 W |
| | |
| --- | --- |
| Cutting Deck | |
| Cutting system | 3 pivoting razor blades |
| Cutting width | 24 cm |
| Cutting height max | 60 mm |
| Cutting height min | 20 mm |
| | |
| --- | --- |
| Equipment | |
| Keypad | None |
| Information panel | No |
| Timer | Yes |
| Handle type | Integrated |
| Alarm | High |
| PIN code | Yes |
| Installation lock | Yes |
| Time lock | Yes |
| Remote text message | Yes |
| GPS Theft tracking | Yes |
| Lift sensor | Yes |
| Tilt sensor | Yes |
| Ultrasonic sensor | Yes |
| Extra blades | 9 pcs |
| Loop wire | 0 ft |
| Loop wire | 0 m |
| Staples | 0 pcs |
| | |
| --- | --- |
| Capacity | |
| Working area capacity (±20) | 5000 m² |
| Charging system | Automatic |
| Maximum incline within the working area | 24 ° |
| | |
| --- | --- |
| Dimensions | |
| Product Size, Length | 72 cm |
| Colour | Orange/Grey |
| | |
| --- | --- |
| Sound and Noise | |
| Sound level Guaranteed | 61 db(A) |
Automower Survey and Installation Service
We offer a full survey and installation service for all Husqvarna Automowers which includes:
FOC Pre Purchase Survey and planning service to ensure we understand and supply the correct machine for your Garden and needs.
Following your purchase:
We offer a full installation and commissioning service (The charge for this service depends on the size and complexity of your Garden).
This includes:
- Boundary and Guide wires
- All connectors required
- Labour and Machine to bury the wires (Machine makes a tiny slot in the lawn), this soon disappears
- Start off and testing of your new machine
In addition to our standard Installation, why not upgrade and include the Husqvarna stylish Automower House to protect your Automower and charging station from the long-term effects of sun and rain exposure?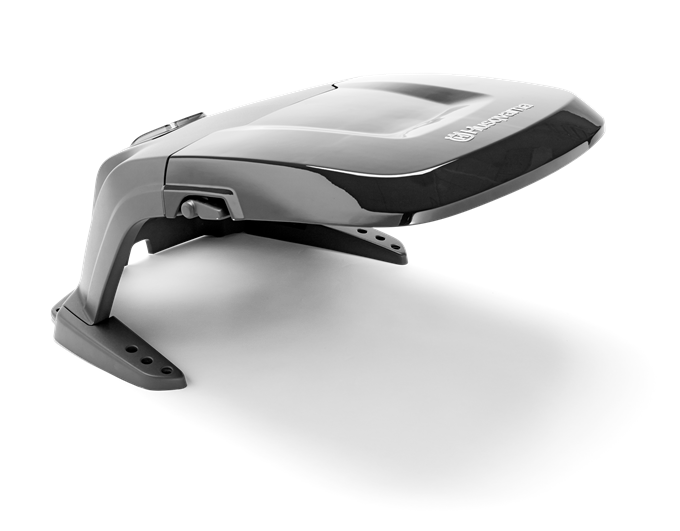 We also offer a range of aftercare packages to service, update and maintain your machine as well as a cable repair service.
Why Buy From Haynes
About Us
Established in 1790 in London, Haynes Bros Ltd is now the holding company for a group of subsidiary companies operating throughout the South East.
Moving to Kent in 1832, the Company was the first in the county to take on the Ford Motor Company franchise in 1911 and then sell and distribute the complete range of Ford cars, trucks and agricultural machinery.
Today it is the only privately owned company in the UK that still distributes these range of products, albeit now with different manufacturers given Ford Motor Company's departure from the truck and agricultural sectors. As part of this move, the Company has developed a relationship with Fiat Group and also now distributes their products via their subsidiaries, Iveco, New Holland and Case IH. It also has the JCB agricultural franchise as well as other leading makes of farm machinery.
The Company operates four subsidiary companies from seven locations in the South East.
Along with all these great brands we supply a large Range of Parts and accessories along with a Great range of Garden and professional machines from Husqvarna. 
We have outlets at
Wrotham TN15 8LW Tel: 01732 880 880 Select Opt One for Parts
Great Chart TN26 1JJ Tel: 01233 822205 Select Opt One for Parts
Birchington (St Nicholas at Wade) CT7 0PT Tel 01843 847207 Select Opt One for Parts
Uckfield TN22 5RB Tel: 01825841100 Select Opt One for Parts
Click here to see our branches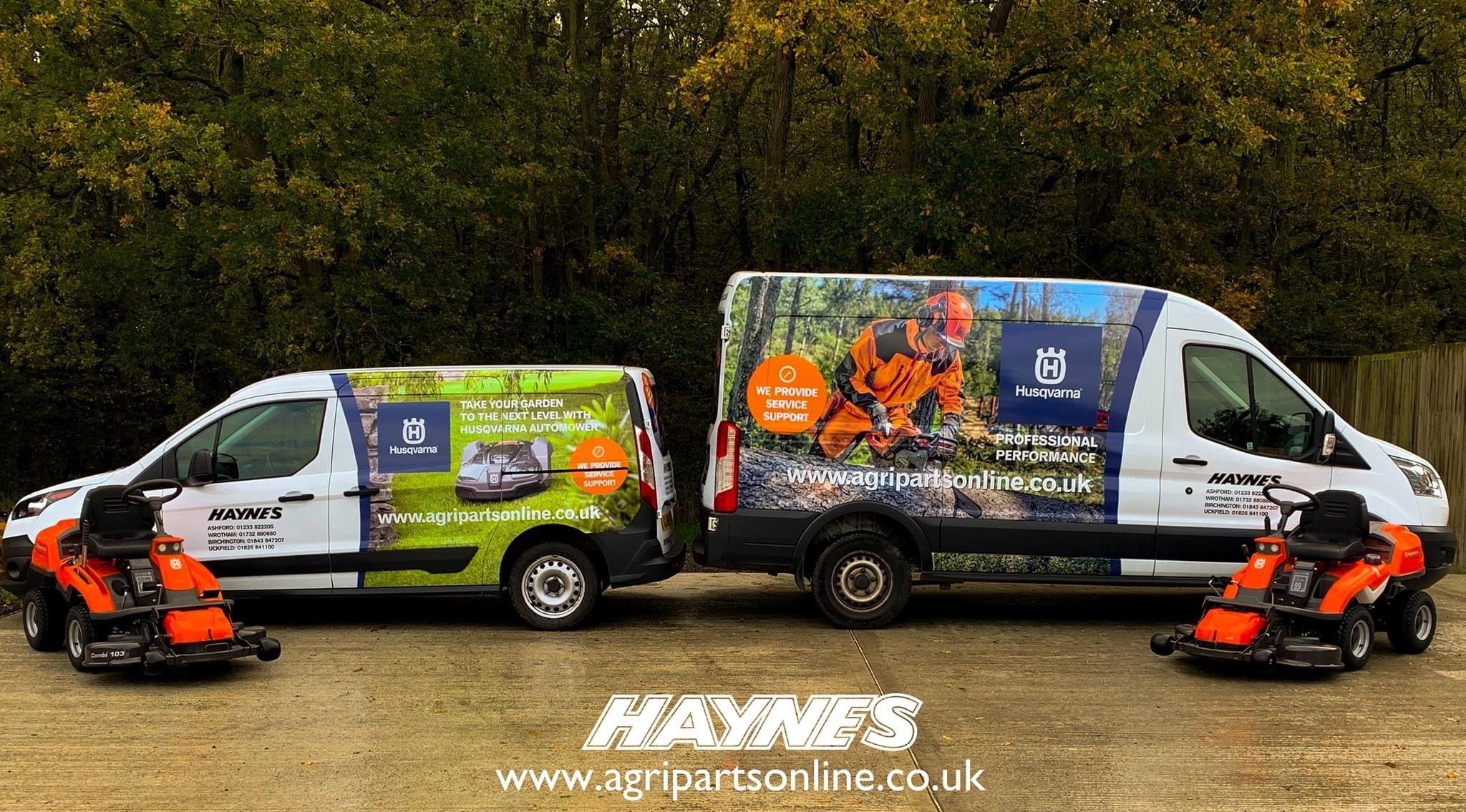 Bronze Service Package
Includes:
- Cleaning
- Pre-service Autocheck
- Disassemble
- Replace Gasket Seals
- Check Wheel & Motor Bearings
- Check Blade Mechanism
- Charge battery for storage
- Replace Blades
- Safety Function Tests
- Software Update
- Battery Charging & Functional Tests
- Charging Station Tests
- Post Service Autocheck
- Protect Wax Spray
Silver Service Package
Includes:
- Bronze Service Package
- Winter Storage of Automower
- Kept Charged
Gold Service Package
Includes:
- Silver Service Package
- Collection from and return at home
- Test run and repair cable if required
Call Out for Cable Break £80
Includes:
- Repair Cable break
- Up to 5 connectors
- Travel Charge
- Check & Restart Machine
Machine Handover Policy
Machines sold by us are "installed machines" we are not an "in the box retailer".
When you collect or by prior arrangement have your machine delivered/Installed a member of our team go through the installation process with you, which will help you make the best use of your machine in a safe manner this will go through the following:
- The importance of reading and following the Manufacturers operator's manual
- The controls and adjustments of the machine to ensure safe and efficient operation of the machine.
- We will also advise you of the importance of wearing the appropriate Personnel protection equipment.
- Also, you will be advised of the importance of servicing and maintenance  for both a Safe and efficient use of your purchase.
- The terms and conditions of the Manufacturer's Warranty Agreement.
- You will be asked to sign the Installation document.
Where delivery of your machine has been agreed you will need to ensure that someone is available to receive the machine and go through the above process.
Delivery and installation is only available it the following Post Code Districts CT, ME, TN, BN & RH
Please Note failure to follow the Terms and conditions of the manufacturers Warranty Agreement may render it invalid