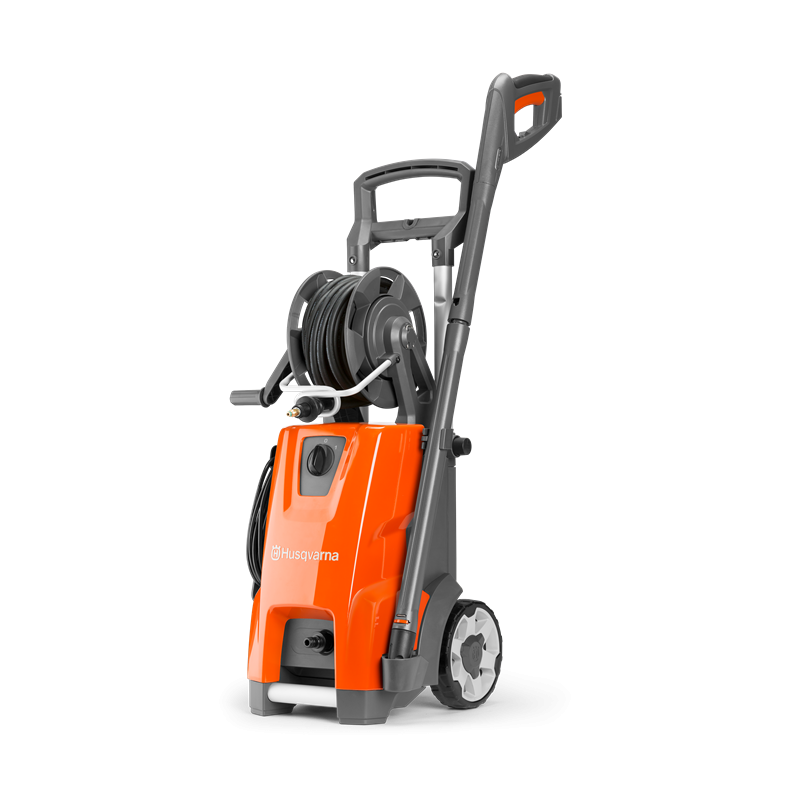  
Husqvarna PW 350 Pressure Washer
A truly high performing machine with robust and purposeful design, for excellent results and demanding jobs such as vehicles and stone walls. The Low Force grip activates the trigger with less effort and more comfort. The induction motor and the metal pump ensure a dependable performance and long product lifetime. Transportation is easy thanks to the aluminum carrying handle.
Quick hose coupling, large and robust wheels for better traction, and a long spray lance add to the experience. Two swivel functions, for nozzle adjustment and quick connection, prevent hassle. On-board accessory storage, hose reel and power cord storage make operation efficient. Two nozzles and one foam sprayer are included.
In business over 200 years

DPD & Royal Mail Delivery

Pay & Collect in Branch or PayPal Online

7 Branches across the South

Machinery installation services
Features
Low Force Grip - In this ergonomically designed function, the trigger's activation is perfectly adjusted to your fingers. This means less effort and more comfort for your hand, especially during prolonged use.
Metal Pump - The pump is made of metal to minimise the risk of breakage and to give your product a long lifetime.
Large and Robust Wheels - Important issues such as easy movement and reliable traction on uneven ground are ensured by the large soft-grip wheels, mounted on a metal axis. This also helps prolong the lifetime of the product as a whole.
Aluminum Telescopic Handle - The robust, extendable handle makes your transportation and storage convenient and easy.
Flexible High-Pressure Hose - Added comfort and user-friendliness thanks to the flexible, non-tangling hose.
Power Cord Storage with Quick Release - No unnecessary time spent unwinding thanks to the convenient power cord storage with quick release that prevents tangling.
Double Swivels and Quick Connect - The spray lance features double swivel functions and quick connections for hose, nozzles and accessories – all to maximise your efficiency and comfort.
Aluminum Carrying Handle - The robust and comfortable aluminum carrying handle makes moving and transporting your machine extra convenient.
Foam Sprayer - You can easily monitor the detergent usage and see its remaining level. This gives you perfect control – and you will never use any more detergent than necessary.
Long Spray Lance - The added length on the spray handle allows for even better ergonomic working positions.
Variable Flat Jet Nozzle - The pressure-adjustable, multi-purpose nozzle gives you increased versatility, as it can be used for a wide range of cleaning tasks with perfect results.
Rotary Nozzle - The rotating pencil jet nozzle gives you a targeted, high cleaning performance and helps you get rid of persistent dirt effectively.
On Board Storage - All included accessories can be neatly stored on the machine for easy access and more efficient work.
| | |
| --- | --- |
| Approvals | |
| CE certified | Yes |
| Automatic start/stop | Yes |
| | |
| --- | --- |
| Equipment | |
| Hose Length | 9 m |
| Container capacity | 0.5 l |
| | |
| --- | --- |
| Sound and Noise | |
| Sound power level, guaranteed (LWA) | 90 db(A) |
| | |
| --- | --- |
| Vibrations | |
| Vibration (ah) Vibration max ah | 2.5 m/s² |
| | |
| --- | --- |
| Dimensions | |
| Article net weight | 18800 g |
| Product Size, LxWxH | 325x350x710 cm |
| | |
| --- | --- |
| Motor | |
| Voltage | 230 V |
| Frequency | 50 Hz |
| Phases | 1 |
| Power rating | 2100 W |
| Rated current | 9.5 A |
| | |
| --- | --- |
| Technical Data | |
| Max pressure | 150 bar |
| Operating pressure Max | 135 bar |
| Water flow | 420-500 l/h |
| Max. Water inlet temperature | 40 °C |
| Max self-priming suction | 1 m |
| Length of cord | 5 m |
Why Buy From Haynes
About Us
Established in 1790 in London, Haynes Bros Ltd is now the holding company for a group of subsidiary companies operating throughout the South East.
Moving to Kent in 1832, the Company was the first in the county to take on the Ford Motor Company franchise in 1911 and then sell and distribute the complete range of Ford cars, trucks and agricultural machinery.
Today it is the only privately owned company in the UK that still distributes these range of products, albeit now with different manufacturers given Ford Motor Company's departure from the truck and agricultural sectors. As part of this move, the Company has developed a relationship with Fiat Group and also now distributes their products via their subsidiaries, Iveco, New Holland and Case IH. It also has the JCB agricultural franchise as well as other leading makes of farm machinery.
The Company operates four subsidiary companies from seven locations in the South East.
Along with all these great brands we supply a large Range of Parts and accessories along with a Great range of Garden and professional machines from Husqvarna. 
We have outlets at
Wrotham TN15 8LW Tel: 01732 880 880 Select Opt One for Parts
Great Chart TN26 1JJ Tel: 01233 822205 Select Opt One for Parts
Birchington (St Nicholas at Wade) CT7 0PT Tel 01843 847207 Select Opt One for Parts
Uckfield TN22 5RB Tel: 01825841100 Select Opt One for Parts
Click here to see our branches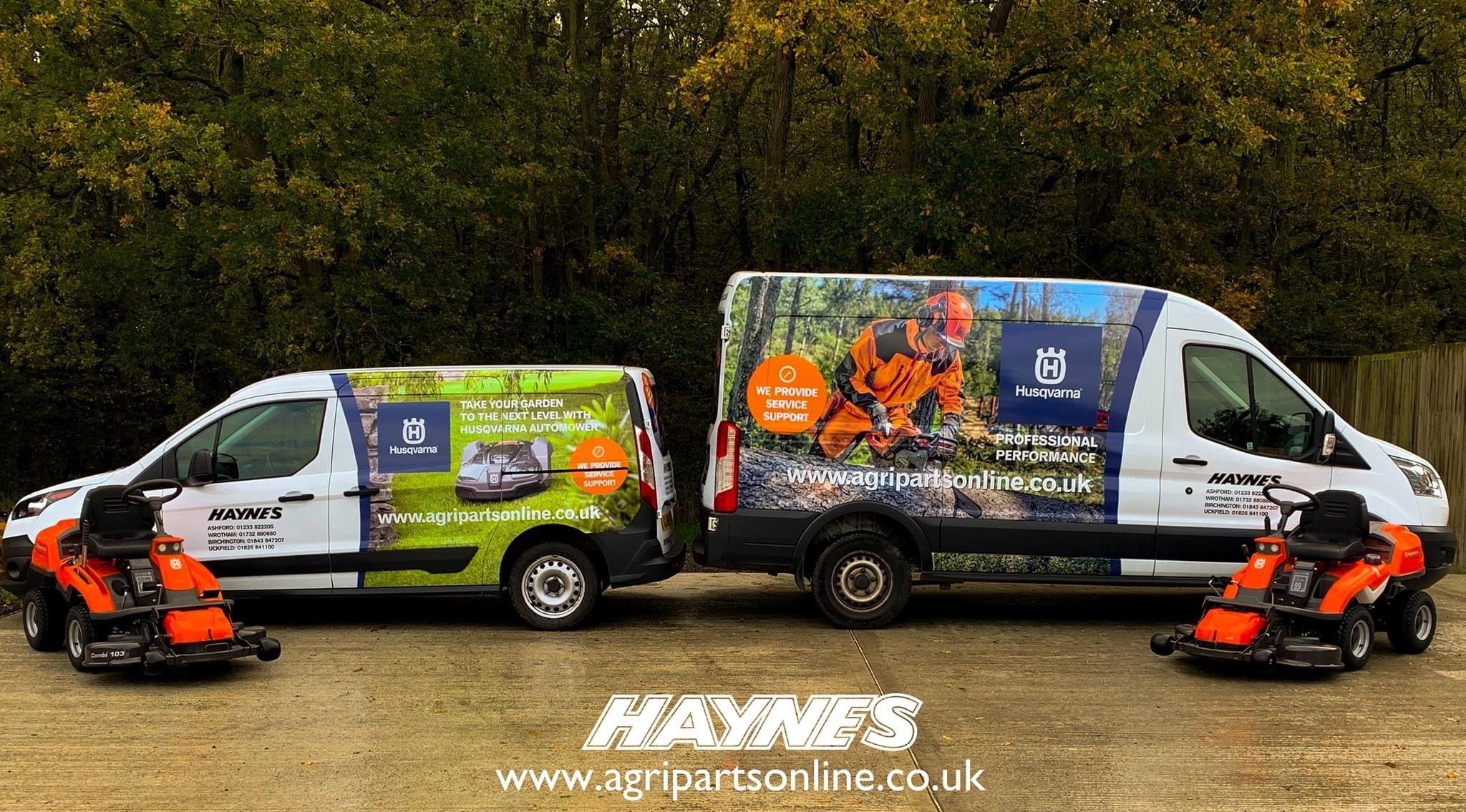 Machine Handover Policy
Machines sold by us are "installed machines" we are not an "in the box retailer".
When you collect or by prior arrangement have your machine delivered/Installed a member of our team go through the installation process with you, which will help you make the best use of your machine in a safe manner this will go through the following:
- The importance of reading and following the Manufacturers operator's manual
- The controls and adjustments of the machine to ensure safe and efficient operation of the machine.
- We will also advise you of the importance of wearing the appropriate Personnel protection equipment.
- Also, you will be advised of the importance of servicing and maintenance  for both a Safe and efficient use of your purchase.
- The terms and conditions of the Manufacturer's Warranty Agreement.
- You will be asked to sign the Installation document.
Where delivery of your machine has been agreed you will need to ensure that someone is available to receive the machine and go through the above process.
Delivery and installation is only available it the following Post Code Districts CT, ME, TN, BN & RH
Please Note failure to follow the Terms and conditions of the manufacturers Warranty Agreement may render it invalid